Sustainable urban development: The urban algae filter
In order to improve air quality in Germany, the government has incorporated air quality limits into German law. The air quality is defined by the concentration of pollutants (CO2. nitrogen dioxide, fine dust (PM10) and ozone). The main concern is to reduce nitrogen dioxide, particulate matter and CO2. The formation of ozone begins with other substances (nitrogen dioxide etc.).
Solaga develops green and sustainable air purifiers. The air is biologically filtered by microalgae. The algae process the pollutants contained in the air in a natural way. With the help of light and water they convert carbon dioxide into oxygen. They can also break down fine dust and nitrogen, among other things.
The urban algae filter - A cooperation with the IBB and the EU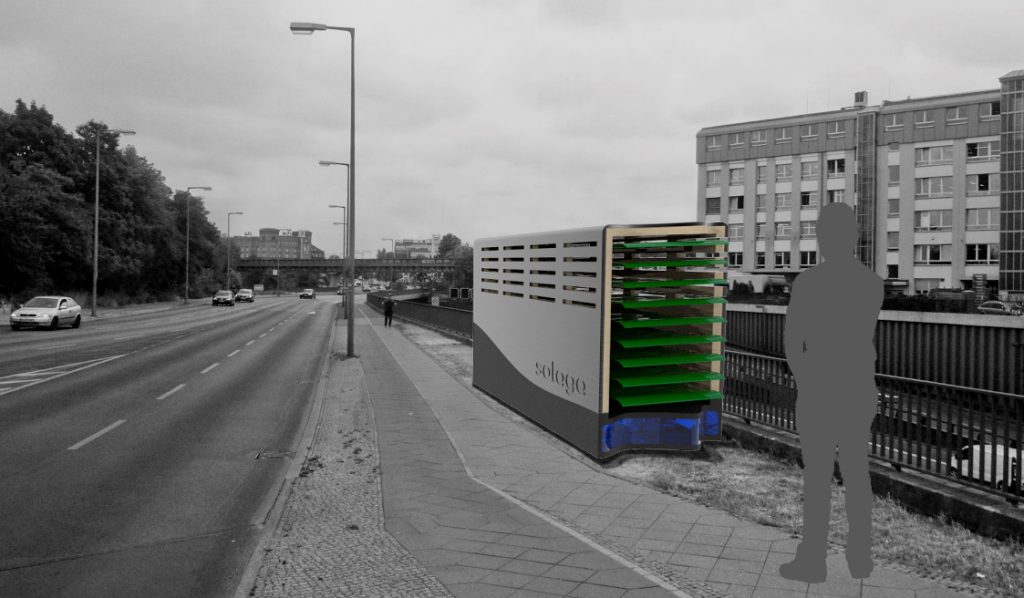 –  Multistage algae biofilms clean the air on the street like a green lung
–  Sustainable air purificationthat conserves resources, and CO2 absorbsinstead of producing some
–  Aufnahme von Stickoxiden und Particulate matter, sowie Senkung unterhalb der Grenzwerte
–  Low maintenance solution, which resources have to be serviced only every 3-5 months
–  Self-sufficient supply with water and energy
About us: Solaga is a young company based in Adlershof, which has discovered and used a revolutionary living material for many applications: Algae-Biofilms.As sustainable systems, they will facilitate our transition to a bio-economy. If you are interested: Contact Us here.
This project is co-financed by the European Regional Development Fund.
Solaga researches sustainable innovations from algae. The Alwe50 algae picture for green walls is air purifier and green design for your office.
With our algae picture we offer a completely new concept to animate offices and living spaces. With the innovative microalgae film technology, rooms and especially walls can be used sustainably.