Biological air purification
Es besteht ein deutlicher Zusammenhang zwischen der dauerhaften Einwirkung von Feinstaub auf menschliche Lungen und der Anfälligkeit für Erkrankungen, denn die Vorbelastung des menschlichen Körpers durch Feinstaub scheint diesen zu schwächen. So wird der Körper anfälliger für Viren und es wird ebenfalls eine Auswirkung von Luftverschmutzung auf den Verlauf von Lungenkrankheiten vermutet.
Die kleinen Feinstaubpartikel können über die Atmung in den Körper gelangen und dort verschiedenste Reaktionen verursachen. Bestimmte Partikelgrößen können sogar die Lungen-Blutbarriere durchschreiten.
An invisible problem for a green earth:

air pollution by air pollutants
Die Menschheit rückt zusammen, Ballungszentren vermehren sich und Städte wachsen stetig.
Das bedeutet auch, dass sich die Luftschadstoffe im urbanen Bereich konzentrieren. Anders als Abwasser oder Abfall, können wir die steigende Luftverschmutzung nicht wahrnehmen. Das macht diese zu einem der am meisten unterschätzten Gesundheitsrisiken.
A person breathes about 10,000 litres of air every day.
For this reason, the World Health Organization Luftverschmutzung bereits seit 2014 als eines der größten Gesundheitsrisiken weltweit ein.
Our cities today are still operated by a fossil-driven infrastructure. This continues to mean air pollution from urban combustion processes. By-products such as formaldehyde, nitrogen oxides and carbon dioxide accumulate in the city in particular.
Particles, sulphur dioxide and ozone also pose a danger. We are exposed to urban air pollutants on a daily basis.
Microalgae are capable of fixing and rendering harmless air pollutants such as carbon dioxide and carbon monoxide. Our current findings show that microalgae biofilms in particular are also capable of absorbing nitrogen oxides. We are currently working on the further development of our microalgae biofilter concept to also test the filtration of VOCs and SO2.
In biofilters, microalgae biofilms work with low energy and are suitable for cleaning low concentrations. They therefore offer an enormous potential for urban and biological air purificationThey can also be attached to facades in a space-saving and effective manner.
Solaga develops an algae filter which reduces air pollution in urban areas in a natural way.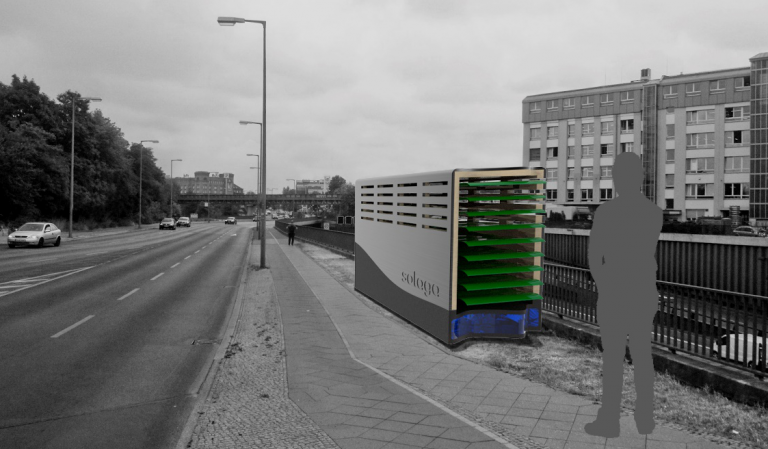 – Multistage algae biofilms clean the air on the street like a green lung

– Sustainable air purificationthat conserves resources, and CO2 absorbsinstead of producing some

– Absorption of nitrogen oxides and NO2 and reduction below the limit values
– Low maintenance solution, which resources have to be serviced only every 3-5 months
– Self-sufficient supply with water and energy
Implementation period: 2020-2022
About us: Solaga is a young company based in Adlershof, which has discovered and made use of a revolutionary living material for many applications: Algae biofilms. As sustainable systems, they will facilitate our transition to a bio-economy. If you are interested, you can contact us.
This project is co-financed by the European Regional Development Fund.