Arrange a free and non-binding consultation appointment. We record important location factors and ask for your wishes.

We present different types of greening and provide you with all the important information. In this way the Alwe is optimally used.
In the next step, the Alwe are simply delivered at the desired time and assembled at the selected locations.
An der Wand können die Algen nun Schadstoffe aus der Luft filtern und Sauerstoff an Sie und Ihre Mitarbeiter abgeben.

Im abgesprochenen Wartungsintervall kommen unsere speziell geschulten Mitarbeiter bei Ihnen vorbei und kontrollieren die Qualität der Algenbilder, befüllen die Wassertanks und tauschen bei Bedarf den Biofilm aus.
Office greening: green spaces for a healthy indoor climate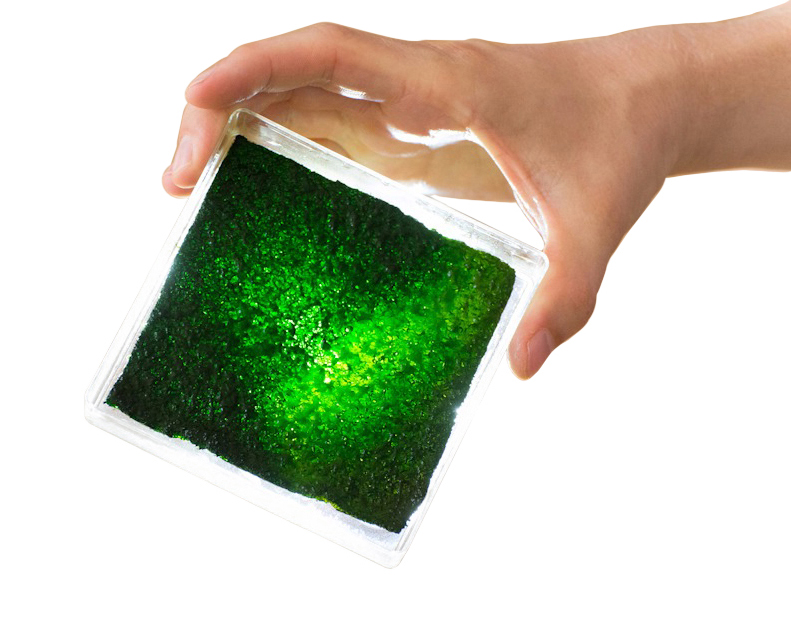 Nachhaltigkeit mit geringem Pflegeaufwand
Grün als Wohlfühlfaktor im Büro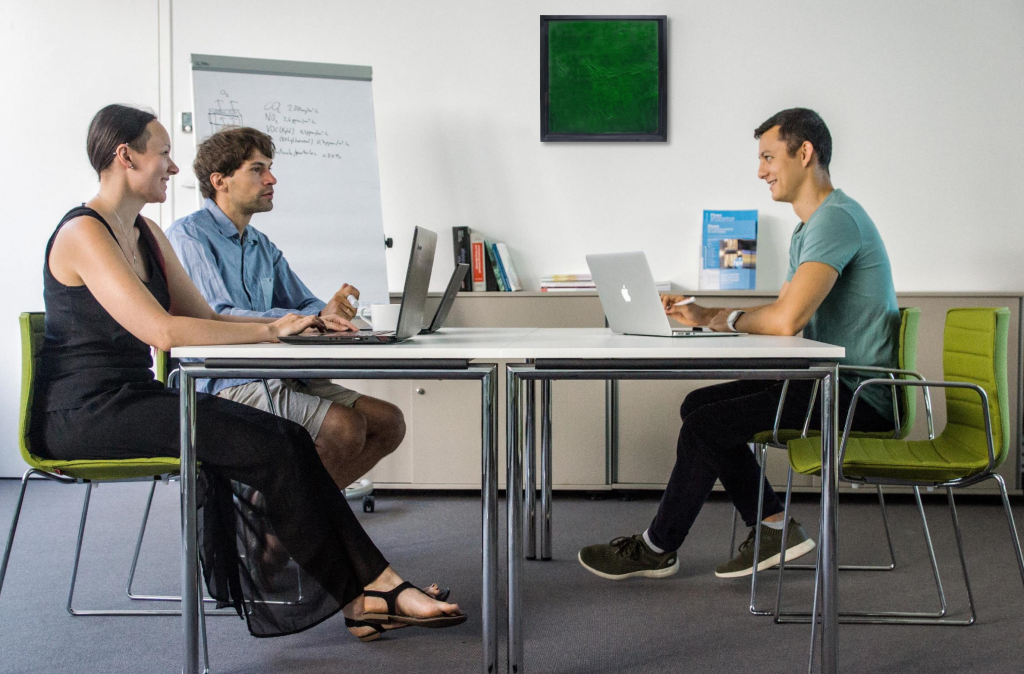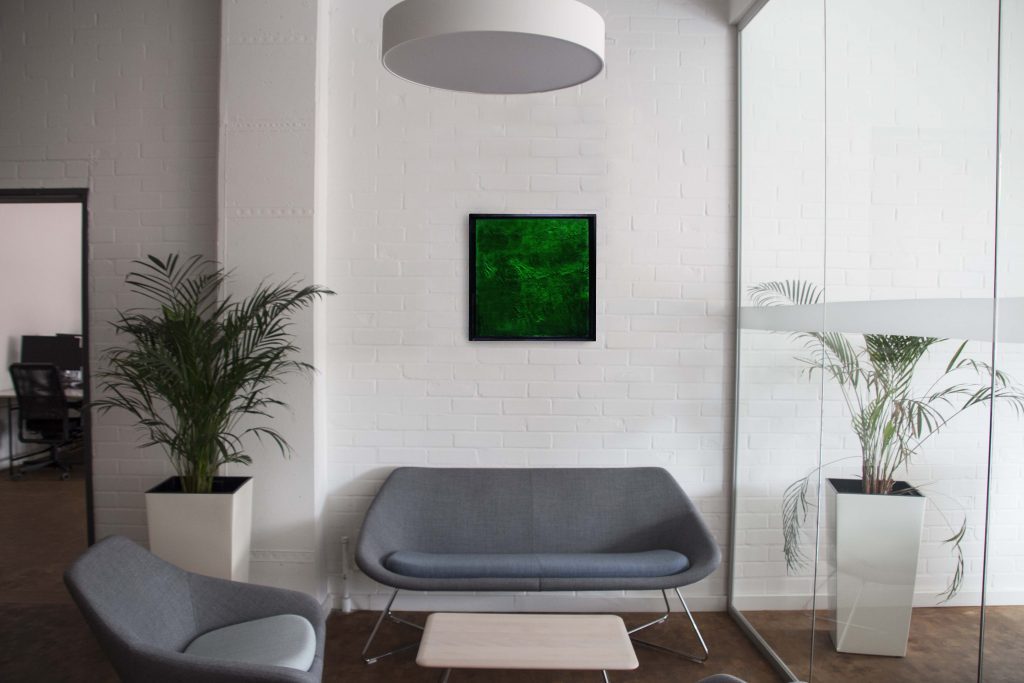 Nachhaltiges und modernes Design
Miete statt Kauf schont das Budget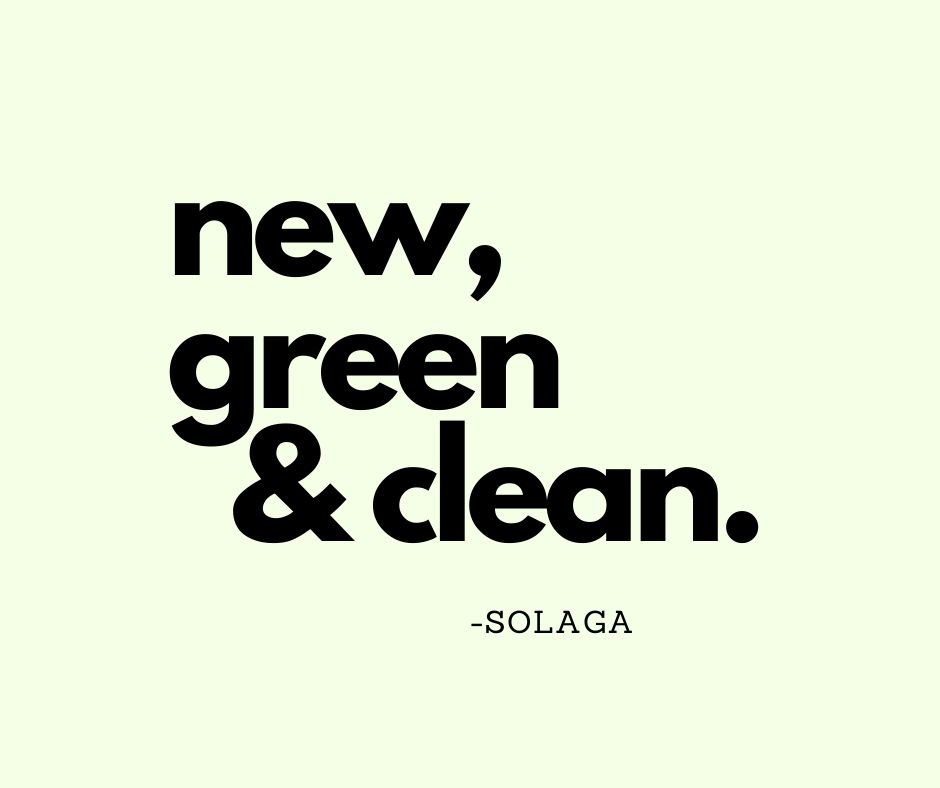 Pionier durch innovative Lösungen
Das Herzstück von Alwe besteht aus einem lebenden Mikroalgen-Biofilm.
Über spezielle Öffnungen kann Luft an den Seiten eintreten und oben wieder ausströmen.
Über einen Tank an der Rückseite werden die Algen mit Wasser versorgt.
Für die Pflege Ihres Alwe bekommen Sie eine Wasserspritzflasche und ein Nährmedium mitgeliefert.
Bürobegrünung ist wichtig
Für ein gesundes Raumklima ist Raumbegrünung in Büros eine lohnende Option.
Heutzutage ist es üblich, dass die meisten Menschen ihre Arbeitszeit in Innenräumen und vor allem in Büros verbringen. Diese sind mit allem ausgestattet, was zum Arbeiten benötigt wird, bieten allerdings oftmals zu wenig im Hinblick auf Wohlbefinden und Raumklima.
Trockene, stickige Luft, eine eintönige, gräuliche Farbgestaltung und damit verbundene Konzentrationsprobleme: Müdigkeit, trockene Augen und Schleimhäute oder sogar Schwindelgefühle. Dank neuer biologischer und arbeitspsychologischer Erkenntnisse kann all dem jedoch inzwischen entgegengewirkt werden. Dazu kann neben Beleuchtungskonzepten die Begrünung von Büros einen wichtigen, nicht zu unterschätzenden, Beitrag leisten. Denn Gesundheit und Wohlbefinden werden zusätzlich zu Licht, Lärmbelastung oder Geruch besonders vom Raumklima, der Farbgestaltung und der Schadstoffkonzentration in der Luft beeinflusst. Mithilfe von Bürobegrünung können diese letzten drei Aspekte auf vergleichsweise einfache Art und Weise verbessert werden.
Office greenery meets various requirements
Bürobegrünung ist vielfältiger, als oftmals angenommen wird. Sie muss nicht unbedingt aus pflegeleichten Topfpflanzen bestehen, die ständig gegossen werden müssen und nicht unbedingt besonders ästhetisch sind. Denn unter Bezeichnungen wie intelligente Bürobegrünung, Climate Office oder Office 4.0 wird Bürobegrünung in verschiedenen Designs und Arrangements und mit unterschiedlichen Pflegeansprüchen an die Ansprüche des jeweiligen Umfelds angepasst.
Algenbilder bringen Abwechslung in das Gesamtbild der Bürobegrünung. Für die optische Aufwertung von Büros sind sie damit gut geeignet, Algen sind sie sehr hygienisch, da sie kaum Schädlinge oder Mikroorganismen beherbergen, welche bei Topfpflanzen hauptsächlich in der Erde vorkommen. Für Büros sind Algen ebenfalls gut geeignet, da sie längere Bewässerungsintervalle zulassen. Somit sind sie auch für vielbeschäftigte Menschen pflegeleicht.
Es gibt viele verschiedene Möglichkeiten, Bürobegrünung umzusetzen…(mehr)