COPD - Auslöser Feinstaub
The susceptibility to diseases caused by a permanent exposure of human lungs to particulate matter is evident. This suggests a connection between air pollution and the course of lung diseases. The small and very small particles can enter the body through respiration and cause a wide variety of reactions. Certain particle sizes can even cross the lung blood barrier. The exposure of the human body to particulate matter seems to weaken it. This makes it vulnerable to Viruses.
An invisible problem for a green earth:

air pollution by air pollutants
Mankind is moving closer together, conurbations are becoming denser and cities are growing steadily.
This also means that air pollutants are concentrated in urban areas. Unlike wastewater or waste, we cannot perceive the increasing air pollution. This makes them one of the most underestimated health risks.
A person breathes about 10,000 litres of air every day.
For this reason, the World Health Organization has classified air pollution as one of the greatest health risks worldwide since 2014.
Our cities today are still operated by a fossil-driven infrastructure. This continues to mean air pollution from urban combustion processes. By-products such as formaldehyde, nitrogen oxides and carbon dioxide accumulate in the city in particular.
Particles, sulphur dioxide and ozone also pose a danger. We are exposed to urban air pollutants on a daily basis.
Microalgae are capable of fixing and rendering harmless air pollutants such as carbon dioxide and carbon monoxide. Our current findings show that microalgae biofilms in particular are also capable of absorbing nitrogen oxides. We are currently working on the further development of our microalgae biofilter concept to also test the filtration of VOCs and SO2.
In biofilters, microalgae biofilms work with low energy and are suitable for cleaning low concentrations. They therefore offer an enormous potential for urban and biological air purificationThey can also be attached to facades in a space-saving and effective manner.
Solaga develops an algae filter which reduces air pollution in urban areas in a natural way.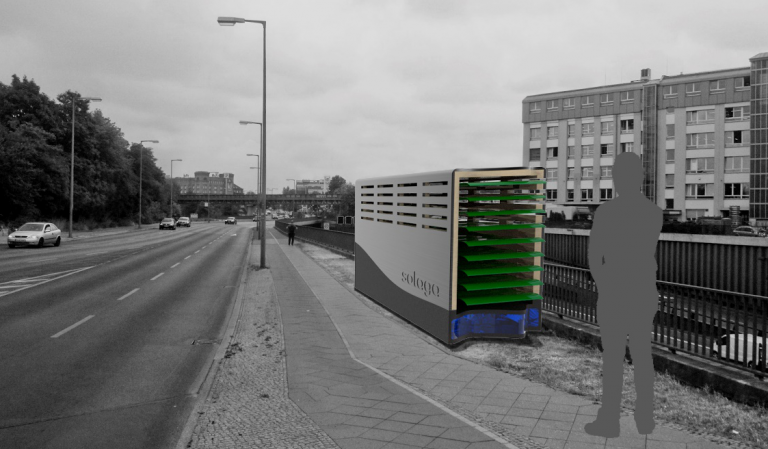 – Multistage algae biofilms clean the air on the street like a green lung

– Sustainable air purificationthat conserves resources, and CO2 absorbsinstead of producing some

– Absorption of nitrogen oxides and NO2 and reduction below the limit values
– Low maintenance solution, which resources have to be serviced only every 3-5 months
– Self-sufficient supply with water and energy
Implementation period: 2020-2022
About us: Solaga is a young company based in Adlershof, which has discovered and made use of a revolutionary living material for many applications: Algae biofilms. As sustainable systems, they will facilitate our transition to a bio-economy. If you are interested, you can contact us.
This project is co-financed by the European Regional Development Fund.