Decoration meets biological air purification
Produces oxygen and reduces CO₂
An algae wall takes up as much CO₂ up like a 20-metre-high tree, releasing oxygen into its surroundings. This process can also take place without natural light.
Microalgae are not plants, have no roots or leaves and require no soil. The extraordinary aesthetics of the microalgae biofilm attracts attention and spreads a feel-good atmosphere. 
Binds particulate matter and other pollutants
Particulate matter, nitrogen oxides and harmful chemicals are absorbed and broken down by the microalgae. In addition, the water flow contributes to humidity regulation.
This water wall cleans the air!
organic, natural, sustainable
*Data refer to measurements in a 25m² room
Due to the evaporation of water, the water wall cools the room air by approx. 2 °C (example picture: 29.5 °C to 27.5 °C).
Air humidification up to 15%
Algae water walls cause an increase in humidity from 38% to 53% and thus to a humidity of 40-60%, which is optimal for health.
Oxygen production approx. 1.5 g/h
Alwa - The algae wall produces approx. 1.5 g of oxygen per hour. At the same time the CO₂-Alwa contributes to the balance needed for office work.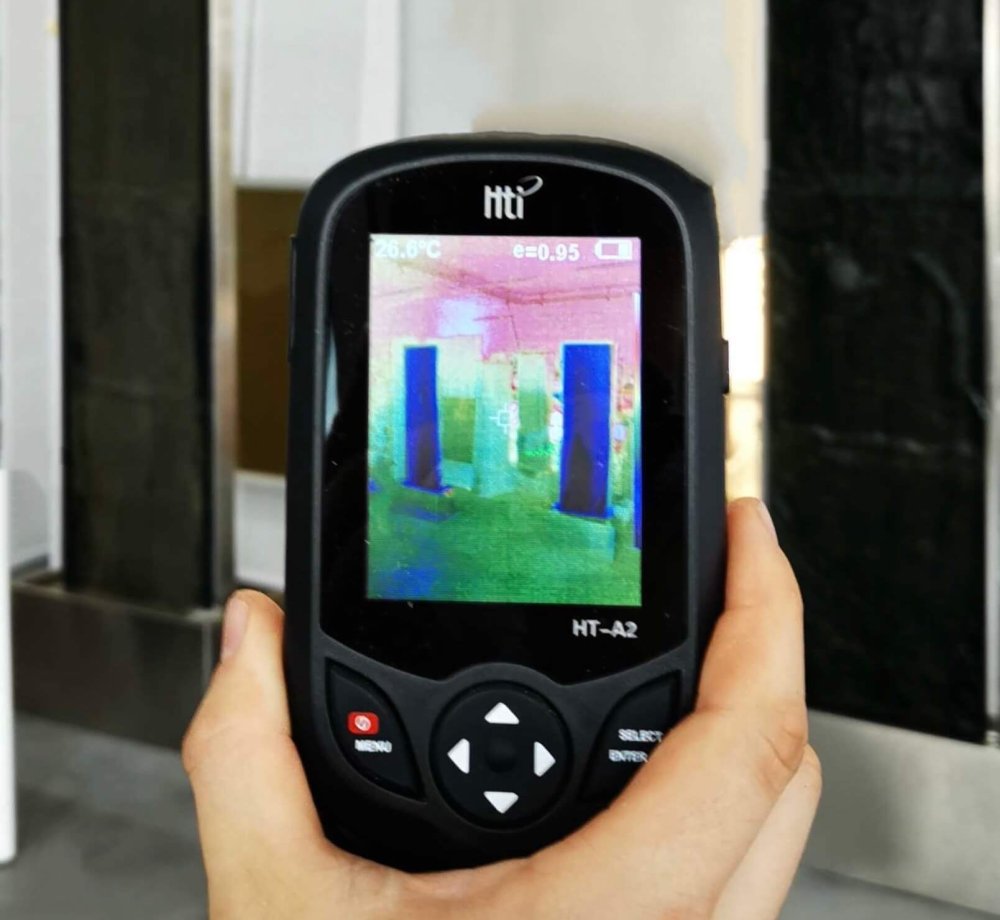 Design your workplace or home together with our specialists.
We ask that you contact us prior to purchase so that we can advise you on the location and possible individual adjustments. your algae wall be able to advise. 
Our trained specialists will take care of the delivery, installation and maintenance of your water wall. 
If any questions arise, we will be happy to answer them so that you can enjoy the positive effects of your water wall without stress or worry.
Are you looking for a unique eye-catcher for your events or trade fairs? Contact us!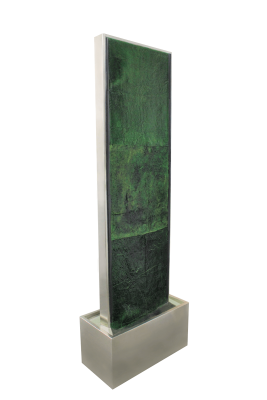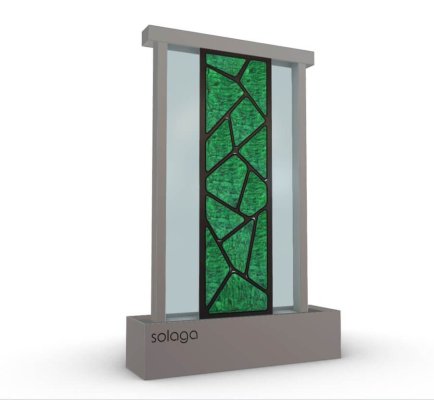 Water walls are considered to be very innovative decorative elements of our time. With their even and continuous flow of water, they bring movement and life to the room. Feelings of relaxation, well-being and fascination are triggered in the observer. 
In rooms with dry air, human mucous membranes suffer. Eyes, mouth and nose become irritated. In addition, flu viruses multiply more quickly in dry air, which increases susceptibility to illness. A water wall has the property of supplying the room with the necessary humidity through its natural water evaporation. This humidification provides a strong reduction of these symptoms.
Advantages of the algae water wall
An algae wall combines the positive properties of a water wall with the air-purifying properties of microalgae. In closed rooms there is usually an increased concentration of fine dust, CO₂viruses and other chemicals that are hazardous to health. Unlike plants or mosses, microalgae are able to absorb these pollutants from the air, convert them and use them naturally for their own growth. This creates a perfect combination of innovative decorative element and unique biological air purifier.
Water walls are suitable for indoor and outdoor use. Especially in the indoor area, the positive properties of the water walls come into their own. A water wall in the office will increase the humidity and counteract the dry office air. The results are a more pleasant working atmosphere and the prevention of tiredness and irritated eyes. If you decide to buy a water wall with integrated algae, the biological air purification of the micro algae will also come into play in addition to the humidifying aspect.
In addition to the direct purchase of an algae water wall, it is also possible to temporarily rent a water wall. This principle is particularly suitable for temporary events at which the attention of visitors is to be attracted by a unique eye-catcher. The assembly and dismantling is carried out by our trained specialist staff.
Interior design is a big issue in many offices. The look should be modern and appealing. A feel-good atmosphere should be created to enable concentrated and efficient work. Often, the conventional way of planting plants or moss is resorted to. At first glance, this solution may seem plausible, but moss walls in particular turn out to be real dust catchers. Plants also lend a green flicker to the room, but have only a very small effect on reducing the concentration of air pollutants. Thus, symptoms of fatigue and concentration difficulties are hardly counteracted. 
Algae instead of office plants
Unlike plants, algae do not need soil and feel very comfortable even in low light conditions. While office plants draw their nutrients from the soil, microalgae absorb them from the air. They convert the used air into fresh oxygen and release it into their environment.
Unlike office plants, algae not only take up CO₂ but also bind fine dust and other chemicals that are hazardous to health. The improved indoor air counteracts fatigue and increases concentration and motivation at work. In addition to these health-promoting properties, the look of the water walls made of algae is unique worldwide and will attract attention. The low-maintenance system with integrated microalgae can therefore be considered the best alternative for indoor plants.